OFFICIAL POINTS SYSTEM

Check the forum for latest results
2013 RESULTS

2012 RESULTS

2011 RESULTS

2010 RESULTS

2009 RESULTS





---
CALENDAR


see the calendar at IMPETUS NEWS


---
Please contact dadiepiombo@libero.it to be included in the calendar


IMPETUS AND BASIC IMPETUS EVENTS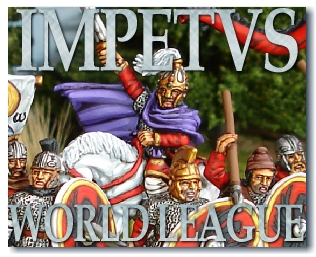 Every competition can be considered valid for the IWL, provide that
1) Organisers must comunicate to dadiepiombo@libero.it the details of the event at least 2 months in advance (the earlier the better of course). This allows the event to be added in the specific calendar.
2) there should possibly be at least 8 players, with a minimun of 2 coming from a different club of the one that organises the tournament.
Tournaments with less then 8 players are allowed but a reduced point system is applied. Full points are applied to the First tournament of a new Country joining the League, even with less than 8 participants.
3) No more than 2 competitions for the same venue or organised by the same club.
4) organisers must comunicate within 10 days from the event the results to the above e-mail.

See the table for the point system:
DOWNLOAD THE TABLE
For the League the players should consider their 3 best results (or the best 4, 5... results in case of a draw among the best players).

The IWL allows tournament organisers to choose the preferred format (Basic Impetus, Impetus 300pts, 500pts...), figure scale etc.