PRE-ORDER IMPETUS 2 NOW!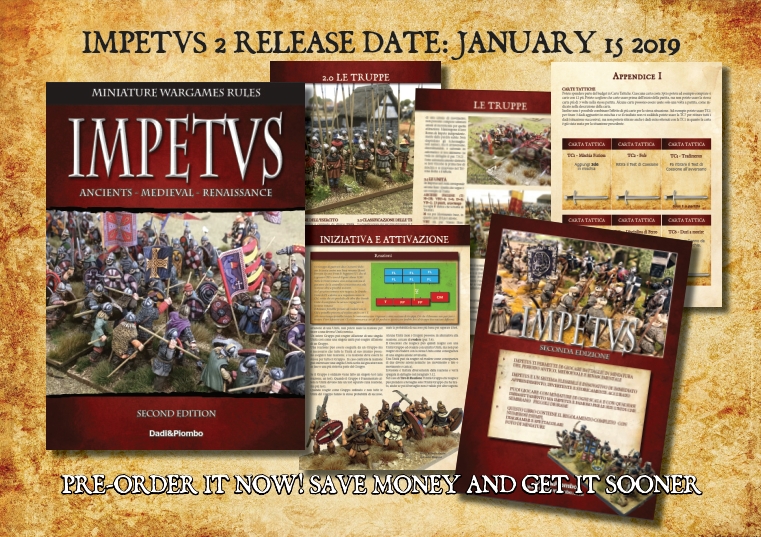 ENGLISH
Impetus second edition will be officially released on January 15, 2019.
Pre-order your copy now by sending an email to dadiepiombo@libero.it with:
1) Name
2) Mail
3) Country
Shortly before going to press you will receive the payment request via paypal with 2 euro discount on the final cost (*).
We are working to ship the pre-orderd books a few days before the official release.
ATTENTION: It is possible to make the pre-order until December 15 b>
(*) We have not stated yet the final cost of the book as it will depend on the weight. We are trying to let it cost like Impetus, Baroque or Basic Impetus 2, but if we exceed the weight, postal rates can increase dramatically and final cost can increase from 2 to 4 euros according to postage rates.
ITALIANO
Impetus seconda edizione uscir&agrave ufficialmente il 15 gennaio 2019.
Preordina ora la tua copia inviando una mail a dadiepiombo@libero.it indicando:
1) Nome
2) Mail
Poco prima di andare in stampa riceverai la richiesta di pagamento via paypal con 2 euro di sconto (*).
faremo il possibile per spedire ai clienti che hanno effettuato il pre-ordine la loro copia con giorni di anticipo rispetto all'uscita ufficiale.
ATTENZIONE: E' possibile effettuare il pre-ordine fino al 15 dicembre
(*) Il costo non &egrave ancora statto stabilito perch6egrave dipender6agrave dal peso del libro e di conseguenza dai costi di spedizioni. Per gli abbonati a D&P il costo resta sempre di 28 euro (26 se in pre-ordine), per gli altri potrebbe esserci un incremento di 2 euro (32 al posto di 30, sempre con 2 euro di sconto per il pre-ordine) qualora il manuale dovesse pesare pi&ugrave del previsto.