The rulebook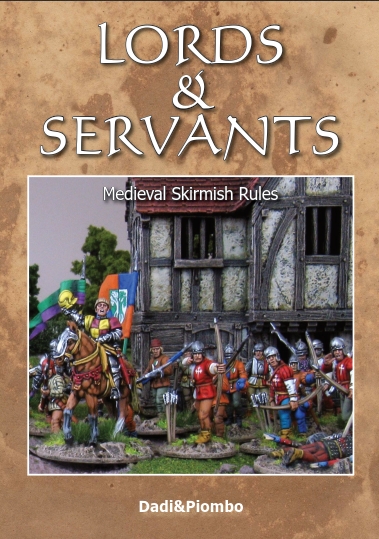 Lords&Servants 2nd edition is now available.
Lords&Servants is a game system designed to recreate skirmish games with 28, 20 or 15mm miniatures.
It covers the Medieval period and it shares the mechanics of our popular system
Smooth&Rifled
.
In the Appendix you will find all the information that you need to create your games, from simple clashes involving a few men per side to bigger encounters with 60-80 miniatures per side, ideal for multiplayer games. The book includes 10 generic scenarios (already available digitally and now re-edited and included in the rulebook)
The cost of the printed book is 24 euros. Add 2 euros for shipping in Europe, 4 euros for America, Asia and Africa and 6 euros for Australia and New Zealand. (
Go to the shop
).
The book is also available through North Star and Caliver Books.
The pdf is availabe at 8.99 USD on Wargames Vault.
(*) ALREADY PURCHASED THE 1st EDITION?
If you have already purchased (or if you purchase now) the pdf on WV, from January 31 you will be able to download the new version for free.
Also, if you purchase or have purchased the pdf you get a
3 euros discount
on the printed version (please contact us in advance before placing the order).
INFO ON THE PRODUCT
Version 2.0, 48 pages (+ 4 cardboard pages with QRF, Markers and Activation tables), full color, A4 format.
Direct link
on Wargames Vault (mind that the new version will be uploaded on January 31 2018)