Extra Impetus 2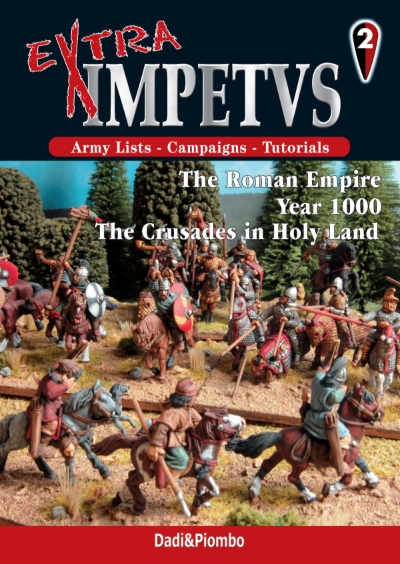 Second IMPETUS supplement. This book includes historical background, 50 official army lists, 1 campaign game and tutorials.
THE ROMAN EMPIRE
Early Imperial Romans, Early Germans, Jewish Revolt, Dacians, Later Sarmatians, Alans, Middle Imperial Romans, Sassanid Persians, Palmyra, Arab-Aramaic Kingdoms, Pre-Islamic Arabs, Armenians, Ancient Britons, Caledonians, Early Irish, Picts, Alamanni, Late Imperial Romans (East), Late Imperial Romans (West), Early Visoghots or Thervingi, Moors.
THE YEAR 1000
Normans in Normandy, Anglo Danish, Danish or Norwegians (Vikings), Norse Irish, Early Welsh, Normans in Sicily, Arabs in Sicily, Nikephorian Byzantines, Early French, Western Franks and Ottonians, Papal States, Magyars, Later Lombards
THE CRUSADES IN HOLYLAND
Fatimids (2 lists), Seljuk Turks, Sultanate of Rum, Comnenan Byzantines (2 lists), Cilician Armenian, Syrian States, Ayyubids, Early Crusaders, Later Crusaders, Latin Empire, Empire of Nicea, Despotate of Epirus, Second Bulgar Empire
1 CAMPAIGN GAME
Saladin a the gates!
English language
44 pages, full color
Format A4
Cost: 16 euros, add postage (see shop). Digital version: 8,99 USD.
BUY THIS BOOK
These books are going to be replaced by the new
Warbooks
. We have a very limited stock of printed books, please write us for details.
Digital version available through Wargames Vault -
DIRECT LINK
Don't miss the special bundle (all 5 Extra Impetus PDF at just 25 USD)
Direct link