Extra Impetus 5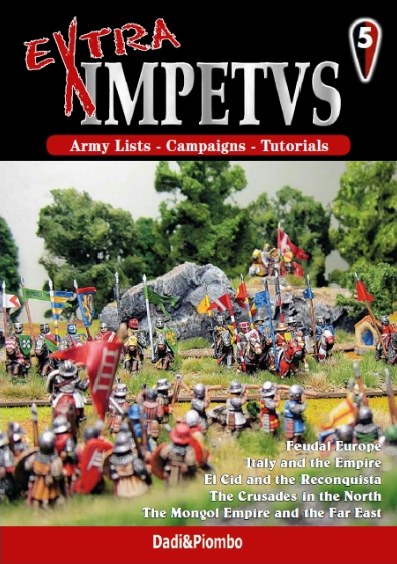 Fifth IMPETUS supplement. This book includes historical background, 48 official army lists, 1 campaign game and tutorials.
FEUDAL EUROPE
Feudal French, Anglo Norman, Early Feudal English, Later Feudal English, Welsh, Scots, Isles and Highlands, Irish, Anglo Irish, Frisia and Free Cantons, Scandinavian Kingdoms
ITALY AND THE EMPIRE
Italian Communal (1150-1200 AD), Imperial German, Italian Communal (1200-1320 AD), Kingdom of Sicily and Naples, Papal States
EL CID AND THE RECONQUISTA
Later Andalusians, El Cid, Almoravids, Almohads, Feudal Castilian, Leonese and Portuguese, Feudal Catalan and Aragonese, Navarrese, Early Nasrids
THE CRUSADES IN THE NORTH
Teutonic Order, Lithuanians or Samogitians, Estonians, Prussians, Kingdom of Serbia, Polish, Kingdom of Hungary, Cumansds
THE MONGOL EMPIRE AND THE FAR EAST
Mongol Conquest, Golden Horde, Ilkhanids, Hsi-Hsia, Koryo Koreans, Jin, Later Sung Chinese, Yuan Chinese, Early Ming, Later Ming, Early Samurai, Middle Samurai, Later Samurai, Ikko Ikki, Yi (Choson) Koreans
1 CAMPAIGN GAME
Barons Revolt
English language
48 pages, full color
Format A4
Cost: 16 euros, add postage (see shop)
Printed version available in the SHOP. Digital version: 8.99 USD.
BUY THIS BOOK
These books are going to be replaced by the new
Warbooks
. We have a very limited stock of printed books, please write us for details.
Digital version available through Wargames Vault -
DIRECT LINK
Don't miss the special bundle (all 5 Extra Impetus PDF at just 25 USD)
Direct link