Extra Impetus 3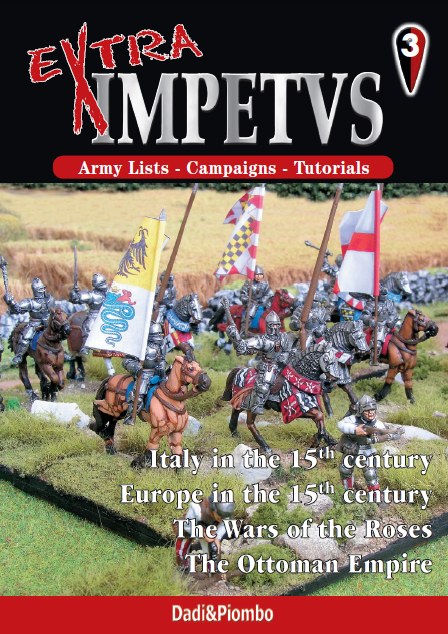 Third IMPETUS supplement. This book includes historical background, 46 official army lists, 1 campaign game and tutorials.
ITALY IN THE XV CENTURY
Duchy of Milan, Republic of Venice, Papal States, Republic of Florence, Kingdom of Naples, Italian Minor States
EUROPE IN THE XV CENTURY
Hussites, Low Countries, Sigismund Imperials, Frederick III Imperials, German Minor States, Union of Kalmar, Swedish, Armagnac, Swiss Confederates, Burgundian Ordonnance, French Ordonnance (1453-1478), French Ordonnance(1479-1494), Nasdrid Dynasty (Later Granadines), Castillian - Aragonese (1475-1479), Castillian - Aragonese (1482-1492), Portuguese (late), Polish-Lithuanian, Teutonic Order
THE WARS OF THE ROSES
Lancaster, York, Richard III, Tudor, Yorkish Pretenders
THE OTTOMAN EMPIRE
Ottoman Turks (1281-1362), Ottoman Turks (1362-1529), Venice in the Colonies, Sigismund Hungarians, Hunyadi and Corvinus Hungarians, Jagiellon Hungarians, Serbians, Albanians, Wallachians, Anatolian Turkomans, Moldavians, Savafid Persians, Palaeologian Byzantines, Order of St John (Knight Hospitaliers), Ak Koyunlu and Kara Koyunlu, Mamluks, Timurids
2 CAMPAIGN GAMES
The Salt War (Condottieri)
The Pretender (Wars of the Roses)
English language
48 pages, full color
Format A4
Cost: 16 euros, add postage (see shop). Digital version: 8.99 USD.
BUY THIS BOOK
These books are going to be replaced by the new
Warbooks
. We have a very limited stock of printed books, please write us for details.
Digital version available through Wargames Vault -
DIRECT LINK
Don't miss the special bundle (all 5 Extra Impetus PDF at just 25 USD)
Direct link