Extra Impetus 4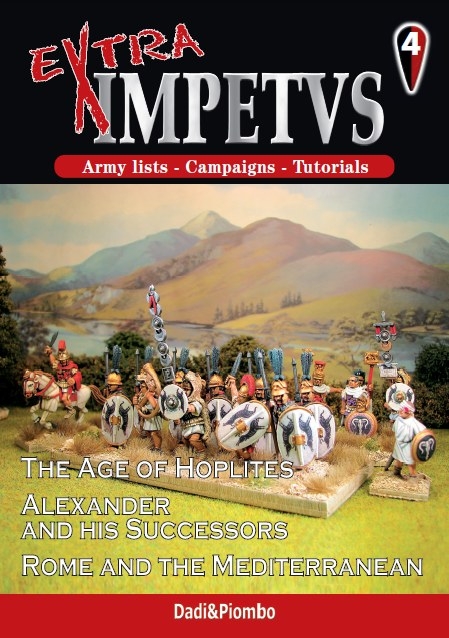 Fourth IMPETUS supplement. This book includes historical background, 42 official army lists, 1 campaign game and tutorials.
THE AGE OF HOPLITES
Athens VII-V Cent., Athens V-III Cent., Thebes, Spartans, Minor Greek Cities, Ionian Greeks, Thessaly, Magna Graecia, Early Achaemenid Persians, Thracians, Illyrians
ALEXANDER AND HIS SUCCESSORS
Early Macedonians, Alexander Macedonians, Alexander Empire, Later Achaemenid Persians, Classical Indians, Maurya Empire, Aetolian League, Achaean League, Early Ptolemaic, Middle Ptolemaic, Attalid Pergamene, Graeco-Bactrian Kingdom, Indo Greek Kingdom, Galatians, Early Seleucids, Early Macedonian Successors, Scythians, Alcetas and Minor Successors, Eumenes, Antigonus Monophthalmus, Demetrius, Lysimachos
ROME AND THE MEDITERRANEAN
Second Punic War Carthaginians, Celtiberians, Iberian and Lusitanians, Gauls, Middle Repubblican Romans, Numidians, Later Numidians, Later Macedonians, Later Seleucids
1 CAMPAIGN GAME
Alexandros
English language
48 pages, full color
Format A4
Cost: 16 euros, add postage (see shop). Digital version: 8.99 USD.
BUY THIS BOOK
These books are going to be replaced by the new
Warbooks
. We have a very limited stock of printed books, please write us for details.
Digital version available through Wargames Vault -
DIRECT LINK
Don't miss the special bundle (all 5 Extra Impetus PDF at just 25 USD)
Direct link